UCLA's Graduate Student Resource Center office staff is comprised of professional full-time staff, graduate and professional school students, and undergraduate students, all who are motivated by providing a healthy and welcoming environment for graduate and professional school students.
Meet our Team
Andrew McClure (him/his)
Interim Director
Fun Fact: I have attended a major league baseball game at each of the 30 different stadiums across the country. [Oriole Park @ Camden Yards is my favorite!]
Andrew McClure manages programs, operations, and initiatives for the UCLA Graduate Student Resource Center. Through work with Graduate Student Orientation, Equity, Diversity and Inclusion Week, and a myriad of campus committees and partnerships, Andrew is dedicated to creating a welcoming environment that is inclusive of all graduate and professional students at UCLA. Andrew is a Bruin through and through; he received his B.A. from UCLA in '04 and it was through his lived experience and work with underserved communities that led him to enroll and ultimately receive his M.Ed. in Counseling in Student Affairs from UCLA in '06. Andrew loves to chat about his experience being a parenting student while in graduate school, the importance of mental health, and anything sports related, especially fantasy football. In his free time, he likes to spend time hiking and/or relaxing with his husband, two dogs and two cats. Most importantly, Andrew encourages you to introduce yourself whenever you have the time to stop by and visit the GSRC.
Advice for Graduate Students: Get to know (and utilize) your resources and find time for yourself. Your health and well-being is most important.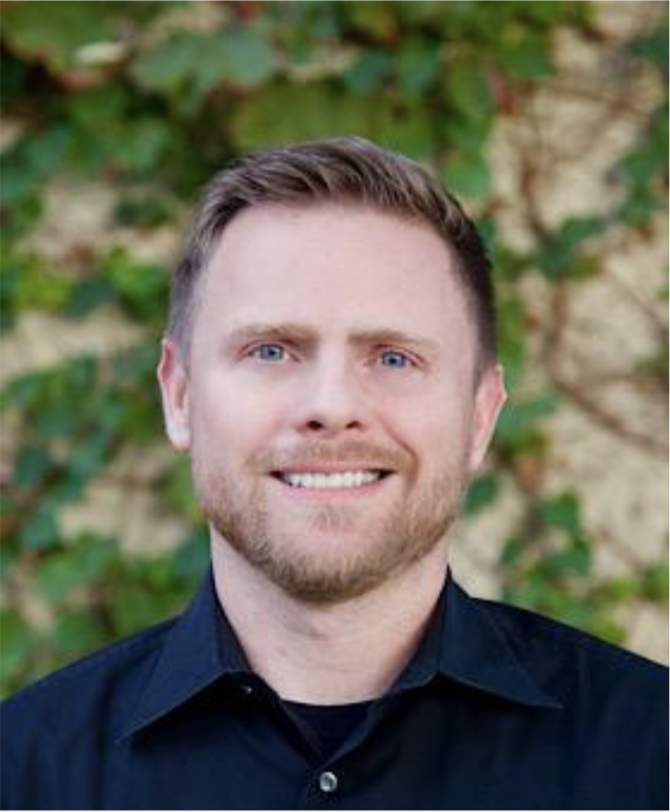 Student Staff
Mahima
Office Assistant
Program: Major in Philosophy, Minor in Entrepreneurship
Fun Fact:
Mahima is a fourth year undergraduate student at UCLA from the Pasadena area. She has been working at the GSRC for over two years as an office assistant. This year she plans on creating more art, enjoying her senior year, and anxiously figuring out what her career path is postgrad. Additionally, she loves volunteering at philanthropic organizations geared towards helping children. She also enjoys listening to music, watching sit-coms and eating chocolate pie.
Advice for Graduate Students:Utilize the many resources you have at your disposal and feel free to ask for help!
Shannon
Office Assistant
Program: Psychobiology B.S.
Fun Fact: Her life revolves around her cat Boo.
Shannon is a third-year undergraduate student at UCLA currently majoring in Psychobiology. She has been working for the GSRC for two years now as a social media manager and office assistant. Her greatest obsessions include coffee and bagels, and is at her happiest when watching a sunset at the beach! With her undergraduate career coming to a close soon, Shannon is anxiously waiting to see where life takes her.
Advice for Graduate Students: You are capable of anything and everything! Remember how hard you worked to get where you are today, and know that you will succeed as long as you continue to give it your best effort!
Letty Treviño (she/her/ella)
Graduate Student Advocacy Coordinator
Program: PhD Program, Dept. of Spanish & Portuguese
Letty identifies as a first-generation queer Latina and student with disabilities. She's in her 6th year of her PhD program and her research specialized in digital culture and community building of U.S. Latinas. Letty has worked with the GSRC for 4 years and has previously served as the Program Coordinator for First-Gen Graduate Programming. She's served on Graduate Orientation Planning Committee since 2018 and in 2020 and 2021 served as a Coordinator for Graduate Student Orientation. In addition to her work with the GSRC she hold a GSR appointment for UCLA's CIRTL Program (a pedagogy training program) and is Vice-Chair of a workgroup that is developing a mentor training program for the Humanities.
Fun Fact: I'm a novice tour guide and plan extensive and detailed adventures for my friends.
Advice for Graduate Students:
Grad school is a marathon, not a race. Pace yourself and make sure to take care of your health first. Make use of ALL of the resources at your disposal. That includes other students that have been through what you're going through. Reach out!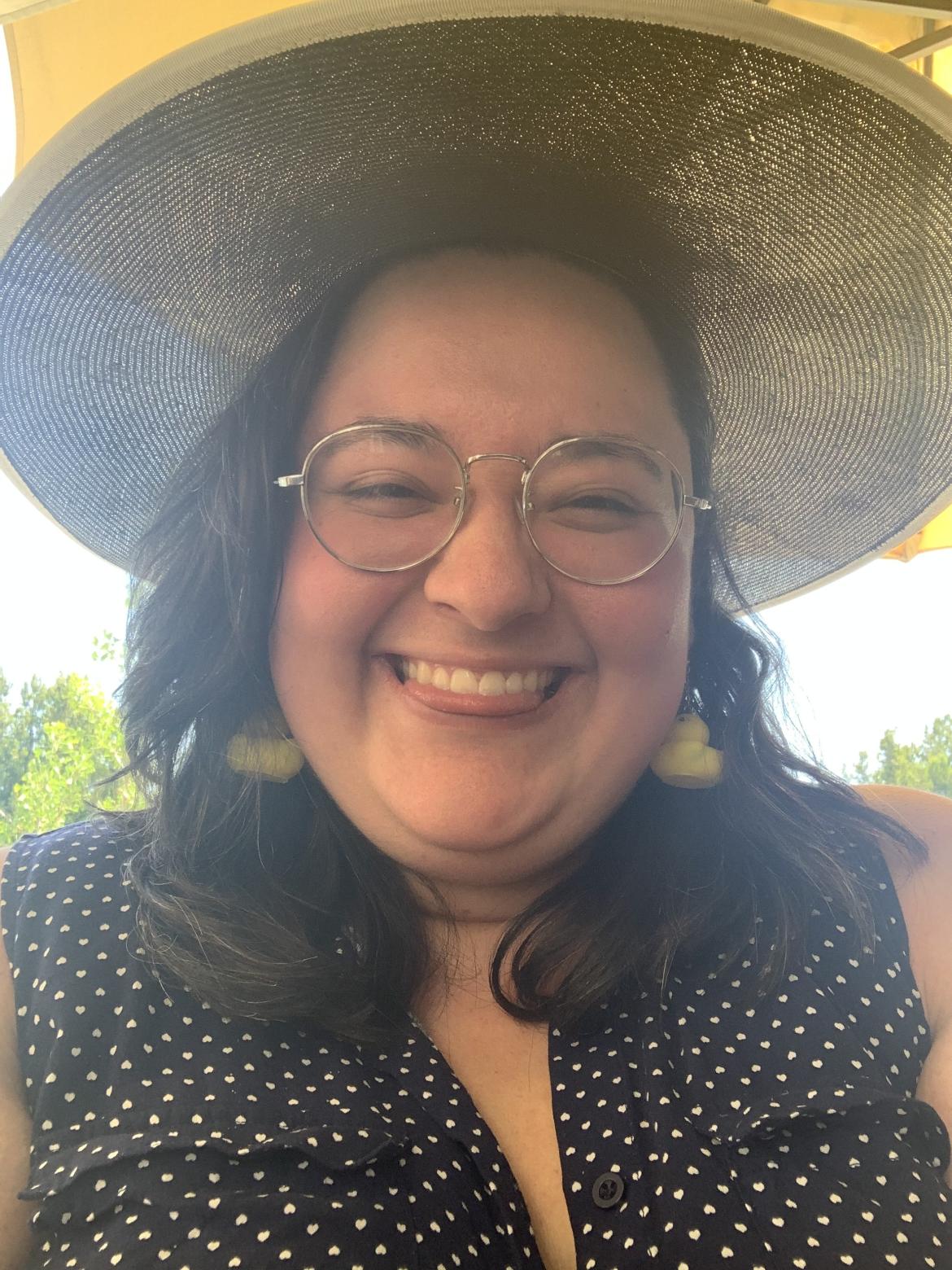 Isabel Benvenuti
Program Coordinator
Program: PhD, Spanish and Portuguese
I'm in my 4th year of my PhD program and my research investigates syntax and language processing in bilinguals. This is my first year working with the GSRC. Previously, I was involved in GSA working on policy advocacy and UCLA's CalFresh initiative, and I'll continue both of these projects in my work at the GSRC.
Fun Fact:In my free time, I like to run and paint.
Advice for Graduate Students:Ask for help when you need it. Grad school can be hard to navigate and impostor syndrome is very real. But keep in mind that no one expects you to know everything or to always be able to solve every problem.
Elyse Brusher (she/her/hers)
Program Coordinator
Program:Ph.D. Program, Dept. of European Languages and Transcultural Studies
Elyse is a 6th-year Ph.D. Candidate in French & Francophone Studies and her dissertation examines how 19th-century French women novelists depict disability. Elyse previously served on the Graduate Orientation Planning Committee in 2018, 2019, and in 2021 served as a Coordinator for the Graduate Student Orientation. She has also coordinated and developed programming offered through the UCLA Center for the Advancement of Teaching, Graduate Student Association, and Alumni Association.
Fun fact:My favorite free-time activities are drinking tea and doing blogilates.
Advice for graduate students: Don't be afraid to change your plan. You will grow and evolve a lot during graduate school and that may cause your priorities and goals to shift. Embrace it!
Wendy Ramos Maciel (she/her/ella)
First-Gen Grad Program Coordinator
Program: M.Ed in Student Affairs
Wendy identifies as a first-gen, transfer student, Latina from the South Bay of LA. Alongside working at the GSRC, she is also a part of the Graduate Student and Professional Student Welfare Committee and GSA. Wendy is excited to join the GRSC team and provide holistic support to first-generation graduate students.
Fun Fact: I am really into sourdough baking and I am constantly trying out sourdough recipes. So far I've made sourdough donuts, bagels, fruit loafs, pizza dough, and cinnamon rolls.
Advice for Graduate Students: step out of your comfort zone and utilize the many resources and events available to you.
Fabiola "Faby" Camacho (she/her/ella)
Student with Dependents Grad Program Coordinator
Program: M.Ed in Student Affairs
Faby is a first year graduate student at UCLA for the Masters in Student Affairs Program. She will be interning for the UCLA Graduate Student Resource Center and Bruin Resource Center Students with Dependents Program. Faby received her B.A. from UC Davis in Community Regional Development and Chicanx Studies. She is excited to be back in the Los Angeles area! Faby was raised in Wilmington, CA, also known as the Heart of the Harbor. Faby is passionate about supporting students' individual needs and acknowledging students' unique experiences in higher education.
Fun Fact: I studied abroad in Havana, Cuba during my undergrad and hope to continue to travel!
Advice for Graduate Students: Build professional relationships and create a supportive community. This can create life long friendships and mentors.
Dana Herrera
Office Assistant
Program: M.A. in Social Welfare
Dana identifies as a Latina, first-generation, and transfer student from the San Fernando Valley. She is currently a graduate student at the Luskin School of Public Affairs at UCLA where she is pursuing a Master's degree in Social Welfare with a concentration in Child and Family Wellbeing. She obtained her Bachelor's degree in Sociology and Chicana/o and Central American Studies from UCLA in 2021. She is a transfer from Los Angeles Valley College where she obtained three Associate of Arts (AA) degrees in Sociology, Social and Behavioral Sciences, and Chicano Studies in 2019. She is currently interning at Wellnest LA, a non-profit that provides therapeutic services for children, youth, and families, and working as an Office Assistant at the GSRC and a Fitwell Consultant at KREC. During her undergraduate career, Dana was a Resident Assistant on the hill, a part of the UndocuBruins Research Program, Undergraduate Research Fellows Program, college and departmental honors, and Grupo Folklórico de UCLA. She is a student who is passionate about honoring those that came before her and research that sheds light on the lived experiences of the communities she represents.
Fun Fact: One thing on my bucket list is to one day visit the pyramids in Tenochtitlan, Mexico.
Advice for Graduate Students: Be authentic, network, build community, and always advocate for yourself. Embrace the journey, but don't forget to take care of your well-being. When challenges come your way, remember your WHY. Your WHY is always the reason you have come this far in the journey!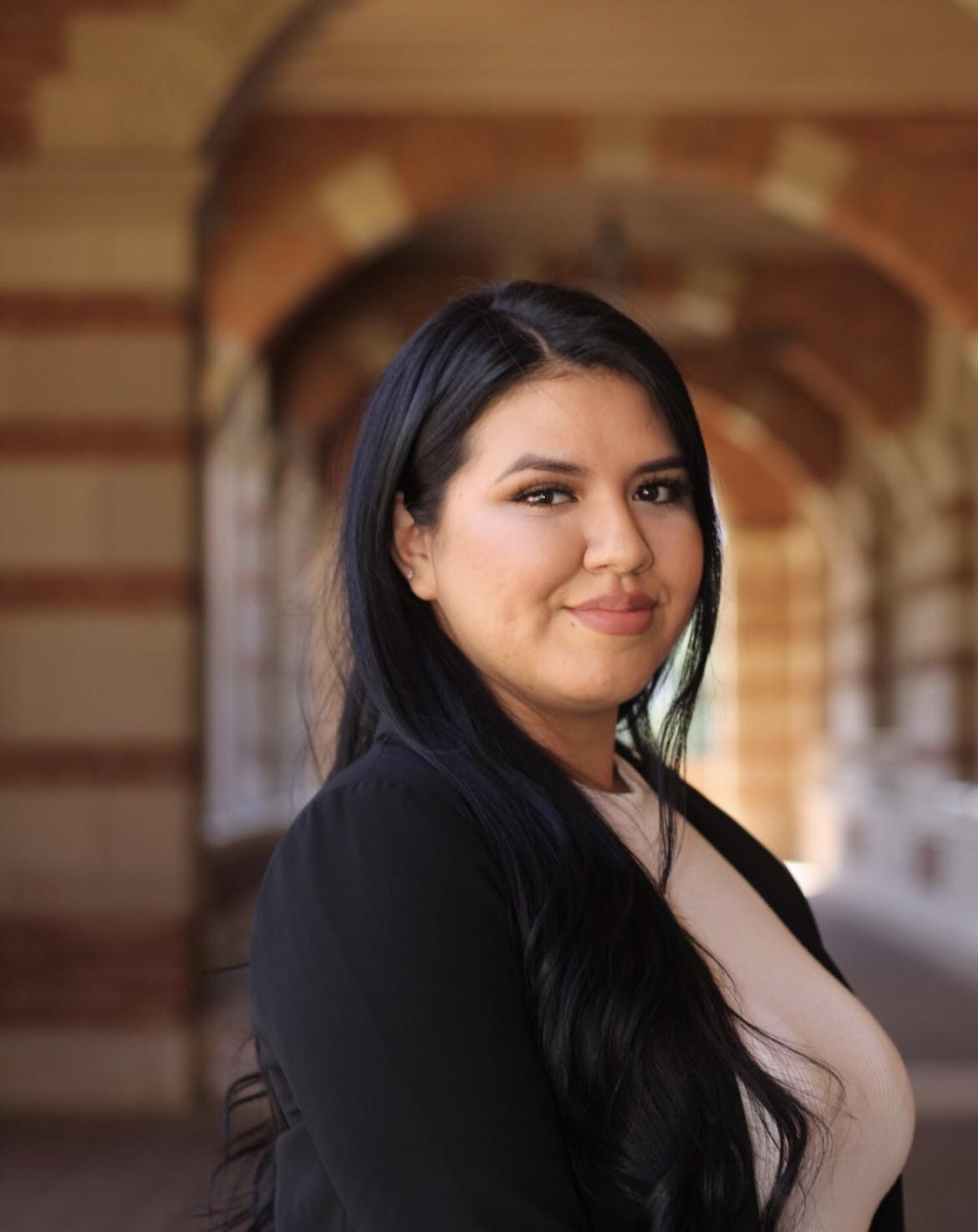 Stephanie Sakamoto
Office Assistant
Program: Biology
I'm a second year Biology major, but I am also considering a minor in Philosophy! Currently, my hobbies are reading WEBTOONS and playing Valorant. I usually don't have a good sleeping hygiene, but I feel like running on very little sleep keeps things interesting! I love talking about different topics, especially about food (or about my cat). Even though I was in art classes for six years, the only artistic expression I have time for now is my makeup, so I like to get creative with it!
Fun Fact: I have a cat named echo who's super cute but has a no tolerance policy for too much affection!
Advice for Graduate Students: You got this! Whatever your passion is, don't let fear of anyone else's opinion stop you from making yourself happy!
Aaron Doyle
Office Assistant
Program: Biology
Aaron is a first year undergraduate student at UCLA currently majoring in Biology, following the Pre Health track. During his free time, he enjoys listening to music, going to the beach, exploring LA, and working out. His biggest fears are bugs and spiders, so if you see him running around and screaming while in public, there is probably a bee next to him. Aaron also hopes to pursue a career in sports medicine one day, as he has a great deal of respect and passion for athletics.
Fun Fact: I was born and raised in Las Vegas, Nevada
Advice for Graduate Students: Dream big, and when you achieve your dream, dream bigger!
Diana Portugal Barron
Office Assistant
Program: Molecular Cell and Developmental Biology
I'm a third-year (first-year transfer) Molecular Cell and Developmental Biology from Santa Barbara California. Although I have lived in southern California coastal towns my entire life I don't really like the beach or hot weather, I prefer crisp fall/winter weather and green foliage. If I could choose an alternate lifestyle I would be a farmer with an animal sanctuary in a small town, with many obligatory farm cats.
Fun Fact: I played music for about 9 years and played violin, trombone, euphonium, and even marching cymbals!
Advice for Graduate Students: Where there is a will there is a way. Don't be discouraged by the challenges you face, be encouraged by the progress you have made.